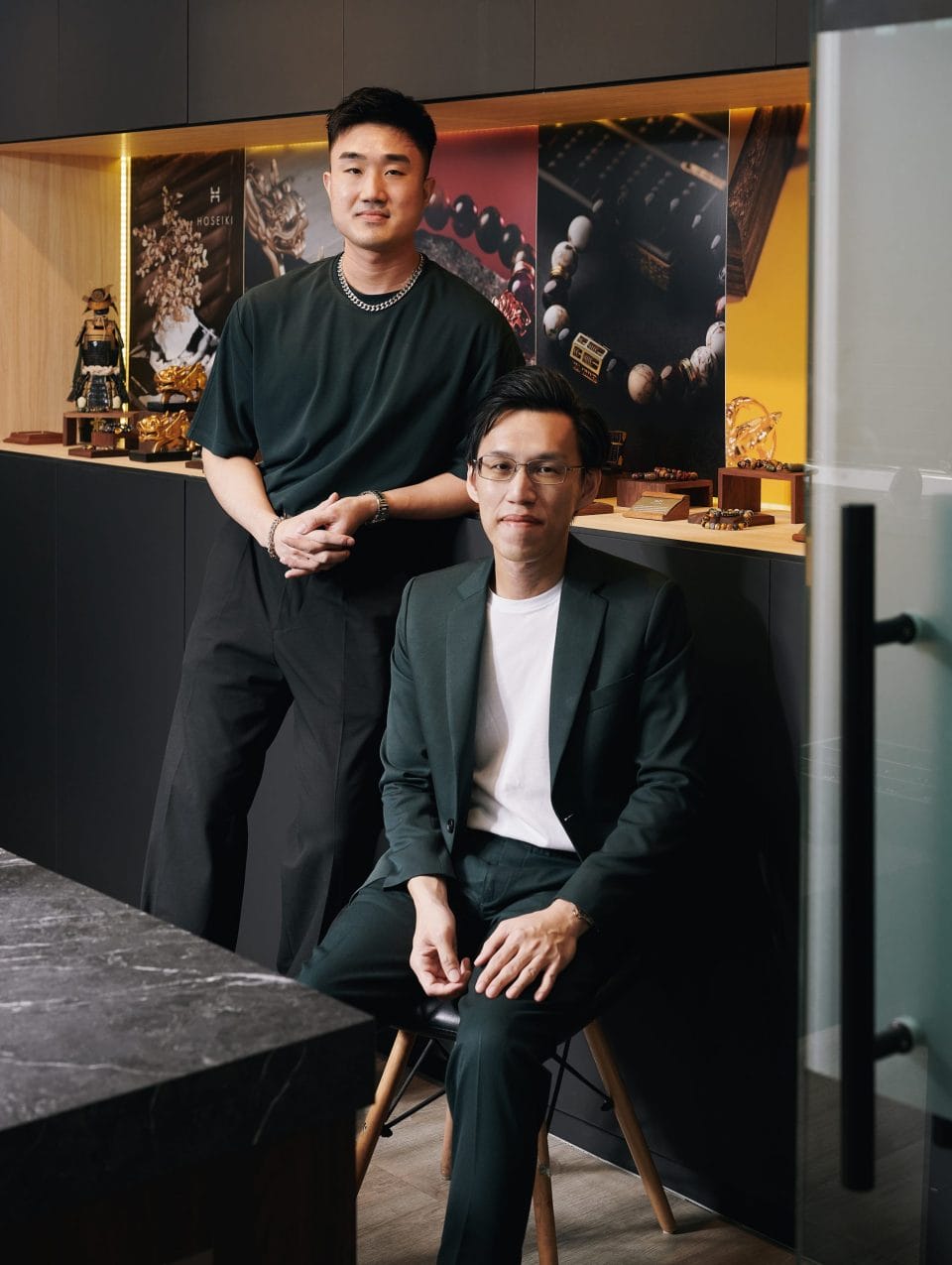 Hoseiki by Daryl Koh and Chase Woo makes handcrafted traditional Chinese jewellery that celebrates the values of wellness and spirituality with the singularity of the individual.
Jewellery has been around for centuries. From metals to gems, pearls to intricately woven strings, these small trinkets are wearable time capsules that both keepsake and impart memory — either of its source, how it was made or what it represents.
Traditional Chinese jewellery has in recent years seen a resurgence in popularity, thanks in part to younger and more affluent crowds reaching for more culturally-rooted or spiritually-backed accessories that set them apart in the increasingly homogenous style landscape. Hoseiki, which specialises in traditional Chinese jewellery, is one such brand that looks to bridge the past and the present with a supply of modern and meaningful jewellery, backed by the values of feng shui.
Founded by entrepreneurs Daryl Koh and Chase Woo, Hoseiki puts a more modern and minimalistic spin on their handcrafted exotic gemstone jewellery, while offering a plethora of services like bazi readings and auspicious date selections alongside their bread and butter — pixiu bracelets. These beaded bracelets are talismans, a symbol of protection, wealth and good fortune that people can wear either customised to their birth charts or bought to serve one of these purposes.
Aware of the popularity and thus association that traditional Chinese jewellery have with the older, more superstitious folk, Daryl, a marketing graduate made it a point to bring to the table an aesthetic that had a more mass appeal. "I have a lot of friends who have pixiu bracelets bought by their parents but they never wear them because it makes them look like loan sharks, so I wanted to take this opportunity to soften and modernise the look," he said.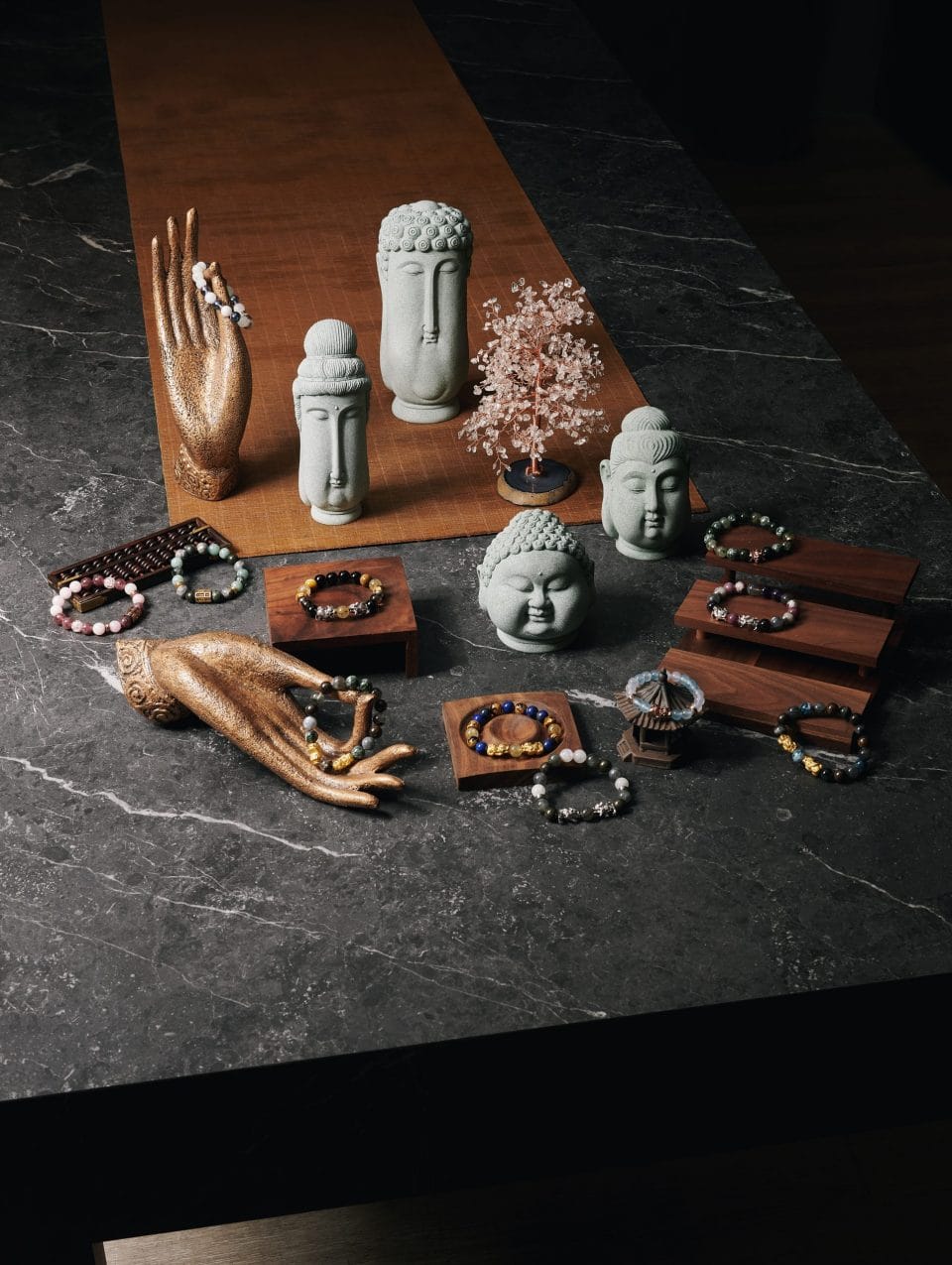 Inspired by a trip to Japan, he makes sure that the designs tell a story too. Chase, who has long had an immense interest in the abstract concepts of Chinese Metaphysics and astrology, and even trained in Taiwan and Thailand for it, adds that it's hard to get the kind of beads they want, but it's worth it for the meanings they embody when put together in a personalised piece. "Each bead has its own significance and that impacts the birth chart calculation formula. And it's not so much about the stones being rare, but about finding the certain pattern that people like, which has been our main challenge when sourcing — the stones need to give the feeling that one is entering another universe."
And this "big picture" take is what more and more youths are looking for. The act of procuring jewellery as also a way of finding meaning and purpose — defining one's identity and ultimately, one's worth. Understanding who we are from an external source can helpus to gain a sense of meaning in our lives, and Hoseiki's existence is proof that gaining insight or validating what we know about ourselves in this oversaturated information age can be particularly enjoyable and empowering.
"I think we provide that missing key that allows that, and this being something people can wear makes it attractive," Chase said. "A lot of the younger people appear very confident on the outside, but when we ask them simple things like what they want in their bracelets during ourfirst contact consultations, they seem to only know what they don't like. So that's where we help them find out through bazi and numerology."
This could be why smaller jewellery makers and craftsman from more traditional trades of the industry are gaining prominence in the market, since the young and affluent crowd are on the hunt for rarity and novelty. And the loose rule of thumb seems to be "the older the better"; deep dives into the past unearth antique shapes and vintage pieces that present more storied forms of craftsmanship and artistry, are more likely one-of-a-kind, and also have in them values and beliefs that buyers can identify with.
"Wearing jewellery — like any form of intentional dressing — allows people to reclaim a sense of control. That's why Hoseiki works — people are starting to place a greater emphasis on wellbeing, wellness and spirituality, and how they dress shows it," said Daryl. Perhaps this is what jewellery was always meant to be, beyond big price tags and bearing the weight of age when received as heirlooms. It is a piece of identity, made with intention; an opportunity to look within for what makes us tick, as unique, one-of-a-kind individuals.
After you're done with this story, click here to view Hoseiki's latest collection.